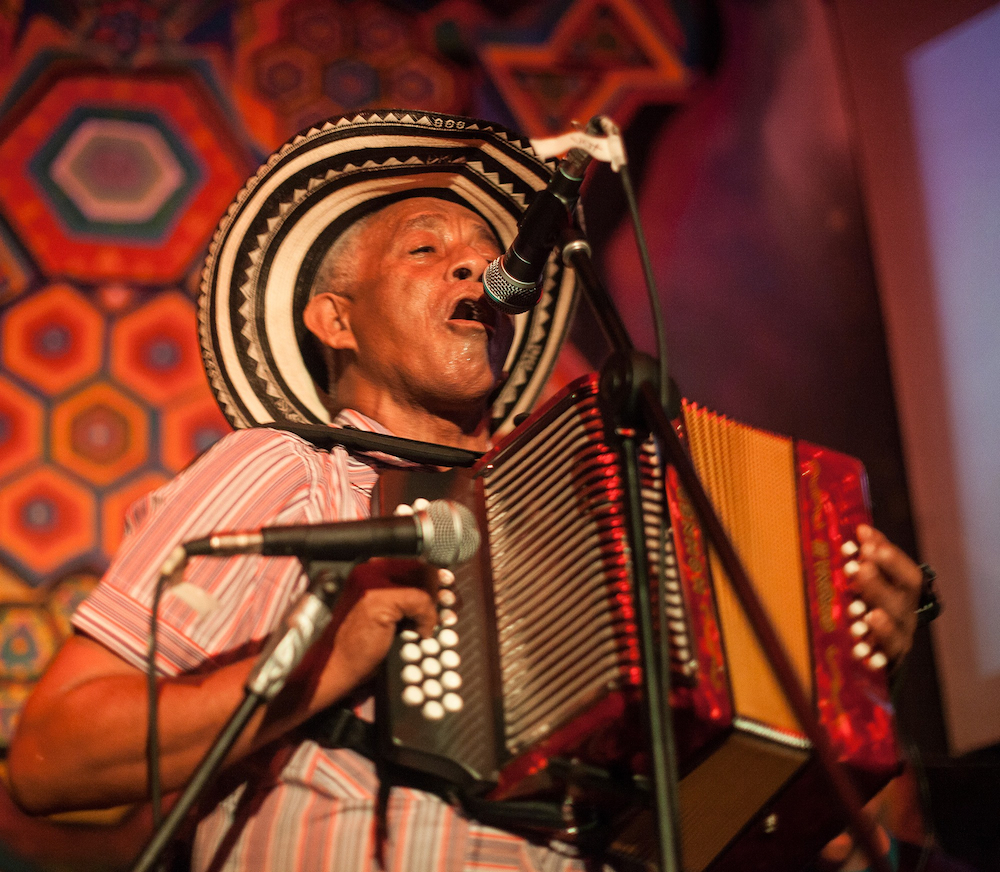 Born and raised in the San Jacinto area, Colombia, home of traditional cumbia and vallenato, Carmelo Torres has been playing the accordion since his was very young and could afford to buy one. He learned to play vallenato first, by himself, before he met Andres Landero and started to play cumbias.
Since Landero passed away in 2000, Carmelo's major concern's been to carry on his teacher's legacy, keeping the cumbia genre alive and teaching the youngest.
Los Toscos is originally an avant-garde, experimental jazz band from Bogotá, composed of Juan David Castaño (percussions), Santiago Botero (bass) and Kike Mendoza (guitar). The band was later joined by two key figures of modern Colombian music: Pedro Ojeda on the drums, and Mario Galeano on the guacharaca (Ondatrópica, Los Pirañas, Frente Cumbiero..)
Back in 2014, Carmelo joined Los Toscos for several concerts in Bogotá and they recorded an album, which was released in the end of 2015 on matik-matik Discos. As our good friends at NYCT (who released another 7" EP from this fantastic project) state it, "the resulting connection is a yet unheard of concoction of Colombian roots and Garage Fuzz", and builds a "quintessential bridge between the old and new generations of Colombian musicians". Electric, atmospheric guitars, sizzled drums and synthesized elements bring something fresh to the cumbia genre, preserving its authenticity at the same time. Something we hadn't heard before, yet to be explored.
Watch Carmelo Torres y Los Toscos performing "Teofilo El Gaitero" live, an interpretation of of this traditional cumbia song written by Adolfo Pacheco, featured on our special 7″ vinyl edition
In this documentary entitled "the bible of accordion", shot by Sonidos Enraizados, the "maestro" Torres tells us about his experience with Andres Landero and his profound respect for cumbia and music in general.
<iframe width="100%" height="280" scrolling="no" frameborder="no" src="https://w.soundcloud.com/player/?url=https%3A//api.soundcloud.com/playlists/227967931&color=ff5500&auto_play=false&hide_related=false&show_comments=true&show_user=true&show_reposts=false"></iframe>
Released on Galletas Calientes Records:
Follow Carmelo Torres y Los Toscos on the web: